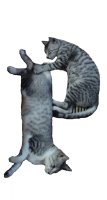 The ever-helpful Phil Bradley has identified 53 possible replacements for
Google Reader
.
He identifies 20 here
and
he identifies 33 more here
. He has tried out some, but not all. As I didn't use Google Reader in the first place, I haven't tried many of these at all: I think just
Scoop-it
,
Netvibes
(like Phil, I'm a Netvibes fan) and
News is Free
.
This is the letter "P" (for Phil) in Neko (Cat) Font: see the website at http://nekofont.upat.jp/ and thanks to Vicki Cormie for alerting me to this ;-)